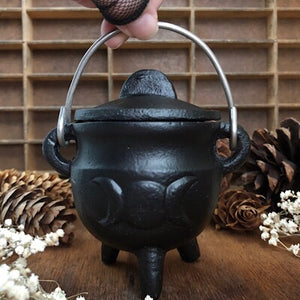 4" Triple Moon Cast Iron Cauldron DISCOUNTED

This Triple Moon Cast Iron Cauldron with Lid measures 4" x 4" (handle to handle, top to bottom). The rim diameter is 2.7".

This cauldron has a small blemish in the cast iron on the lip (as pictured), and it has been heavily discounted.

Each cauldron is handcrafted and as such, has minor imperfections that give this beauty character. They're heavy duty and perfect for spellwork, burning resins, candles, or storing your favorite crystals!