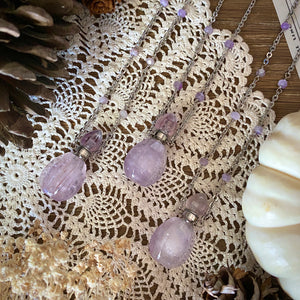 Amethyst Flame Potion Bottles with Beaded Chain
This is a beautiful way to keep your precious potions, essential oils, and even cremains close to your heart. These amethyst bottles measure approximately 1.3" and hang on a 25" amethyst beaded stainless steel chain. The chain is adjustable up to 3".
Each bottle is natural amethyst crystal quartz and has a threaded cap with a rubber ring for an air tight seal. It also comes with a pipette for easy fill.