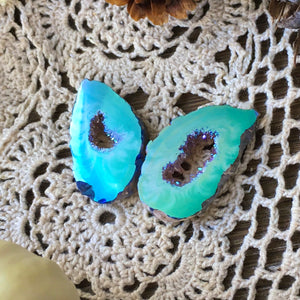 Angel Aura Butterfly Wing Agate Geode Slices

This angel aura agate sliced geode pair measures 38mm and 37mm. These have been treated with semi-precious and precious metals to bring you this iridescent beauty.

 

Agate is highly regarded as a stabilizing and strengthening influence. It's excellent for balancing emotional, physical and intellectual energy, and in harmonizing yin and yang, the positive and negative forces of the universe. It's also known to stabilize the aura, eliminating and transforming negative energies.

 

Geodes are known to assist one in seeing the whole picture and coming to a decision before chaos reigns.