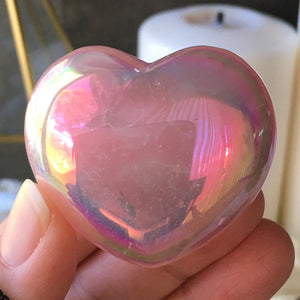 Angel Aura Calming Rose Quartz Heart

You will receive 1 (one) angel aura puffy rose quartz heart that measures approx 1.65". It has been treated on both sides with semi-precious and precious metals to bring you this iridescent beauty.

 

Rose Quartz is the stone of unconditional love and has a soothing energy. It fosters empathy, reconciliation, and forgiveness of others. It is also known to clear out anger, jealousy, and resentment, which lowers stress and tension in the heart.