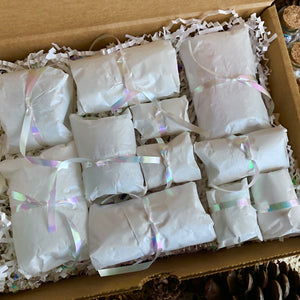 Aura Crystal Mystery Box

The premiere of the Aura Crystal Mystery Box is here! You'll receive 11 different aura crystals and minerals individually wrapped in shimmering paper and iridescent ribbon. Angel aura, sunset aura, cobalt aura, and rainbow aura goodies are all waiting to be unwrapped. This package retails for over $170. Aura crystals and minerals have been treated with precious and semi-precious metals.

These packages are all ready to go and will ship immediately!