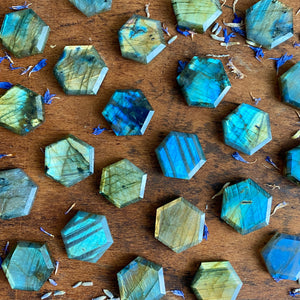 Aurora Lights Labradorite Hexagon

These high quality Labradorite hexagons have a stunning flash and a vibrant range of shades from blue to orange, yellow, green and sometimes purple. This listing is for one intuitively selected Labradorite hexagon ranging in size from 23mm-26mm.

Feel free to request a color in the comments at checkout, and we will try to accomodate if possible, but cannot guarantee it. Each Labradorite hexagon is hand crafted, and as such, may have minor imperfections that give these beauties character.

Labradorite is a stone of transformation, and it has so many magickal metaphysical properties. It's been known to impart strength and perseverance, stimulate the imagination, and also calm an overactive mind. It brings out the best in oneself, and is a useful gem to promote spiritual growth and self discovery.