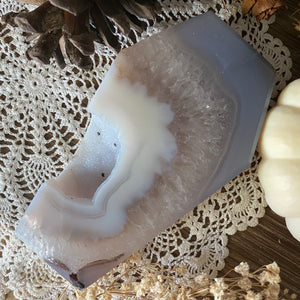 Blue Lace Crescent Agate Druzy Coffin

This magickal, hand carved, self standing blue lace agate druzy coffin measures approximately 4.4" x 0.9" x 2.5". As with all hand carved crystals, it may have minor imperfections that only add to its charm and character.

Whether you choose to 'put to rest' bad memories or a traumatic event, pay tribute to a lost loved one or honor your ancestors, coffins are a beautiful symbol that allows one to facilitate a rebirth by allowing you to release all that no longer serves you.

Blue Lace Agate is a strong healing crystal. It's known to alleviate anger and nervous tension by bringing calmness and peace of mind with it's soothing and nurturing energy.