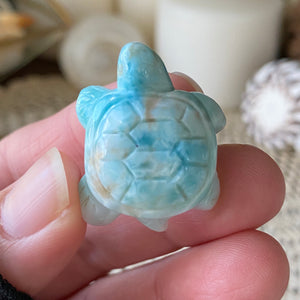 Crush Larimar Turtle

This beautifully hand carved Larimar turtle measures approximately 1.1".

 

Larimar stimulates tranquility by quelling one's temper, calming fear, and relieving stress. It's also known to nurture the physical and emotional body by dissolving energy blockages such as stored anger, pain, and other detrimental emotions that do not benefit oneself.

 

This turtle is uniquely hand crafted and polished and may have minor variations.