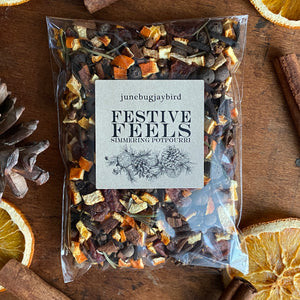 Festive Feels Simmering Potpourri

Festive Feels Simmering Potpourri fills your home with a warm, sweet and spicy holiday aroma. It's perfect for a stocking stuffer or to keep for yourself! It's great for people with fragrance sensitivities, because the ingredients are all natural. Just add water, and let the scent of the holidays fill your home. Once you're done using it, everything can go straight into your compost bin. 
Directions included with packaging.

Ingredients: Citrus peels, organic whole cloves, organic cinnamon bark, organic rosemary, dried cranberries, nutmeg, and whole allspice berries.