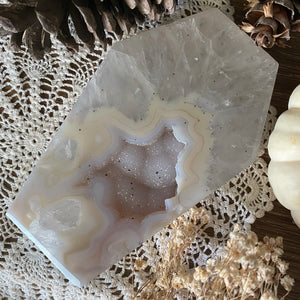 Glimmer Agate Druzy Coffin

This stunning, hand carved, self standing, glimmering agate druzy coffin measures approximately 5" x 0.7" x 3". As with all hand carved crystals, it may have minor imperfections that only add to its charm and character.

Whether you choose to 'put to rest' bad memories or a traumatic event, pay tribute to a lost loved one or honor your ancestors, coffins are a beautiful symbol that allows one to facilitate a rebirth by allowing you to release all that no longer serves you.

Agate is highly regarded as a stabilizing and strengthening influence. It's excellent for balancing emotional, physical and intellectual energy, and in harmonizing yin and yang, the positive and negative forces of the universe. It's also known to stabilize the aura, eliminating and transforming negative energies.