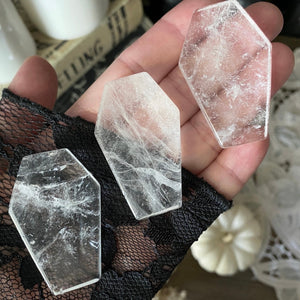 Luminescence Quartz Coffin

You will receive 1(one) hand carved quartz coffin. These quartz coffins measure approximately 1.9" x 1.25" x 0.25".As with all hand carved crystals, it may have minor imperfections that only add to its charm and character. One will be intuitively selected for you.

Whether you choose to 'put to rest' bad memories or a traumatic event, pay tribute to a lost loved one or honor your ancestors, coffins are a beautiful symbol that allows one to facilitate a rebirth by allowing you to release all that no longer serves you.

Quartz is a power stone. It's known as the "Universal Crystal" due to its versatility. It directs and amplifies energy, and is beneficial for healing, meditation, and protection. Most of all, quartz is wonderful for harmonizing and balancing one's environment. It also energizes other crystals.