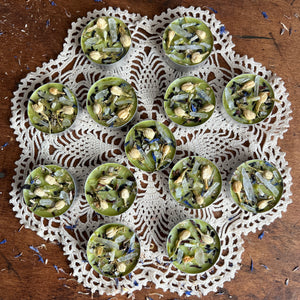 Manifestation Tea Light

These handmade Manifestation Tea Lights are made from clean burning paraffin and were originally curated for the Luna Ritual Kit to be used for New Moon Rituals. These are intended for setting your intentions during the New Moon and can also be used as you see fit including relaxing during a New Moon bath. You'll receive one Manifestation Tea Light.

They're made with Hibiscus, Jasmine, Chamomile, California White Sage, Cornflower, and Quartz to support your manifestations by promoting new beginnings, abundance, protection, prosperity, healing, purification, and the amplification of your intentions. It has an approximate burn time of 4 hours.