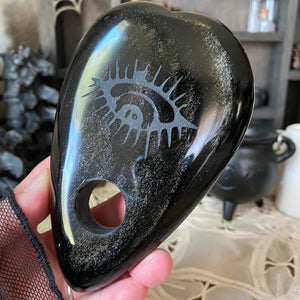 Mystic All-Seeing Eye Golden Sheen Obsidian Planchette

This stunning and magickal Mystic All-Seeing Eye Planchette is hand-carved and etched from golden sheen obsidian and measures a little over 5". As with all hand-carved items, it may have minor imperfections that only add to its charm and character.

 

Golden Sheen Obsidian is a powerful stone for reflection, enlightenment, and for attracting prosperity. It enhances self-reflective meditation by helping one discover where healing is needed. It also helps one heal from past abuse by clearing negative energy and revealing one's true path.