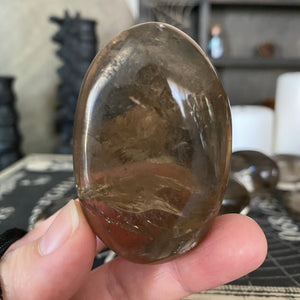 Ravenwood Optic Smoky Quartz Gallet

This large optic smoky quartz gallet measures approximately 2.2" x 1.4" x 0.7" and is made from grade A smoky quartz. It has been carefully shaped, rounded, and polished by hand. As with all hand carved crystals and handmade items, it may have minor imperfections that only add to its charm and character.

In some cultures, Smoky Quartz is reputed to guide souls to the afterlife. It's used in scrying to connect with spirits beyond the veil. It's an excellent grounding stone. It's been known to bring emotional calmness, relieving stress and anxiety as it gently neutralizes negative energy. It's great for elevating moods and is detoxifying on all levels.