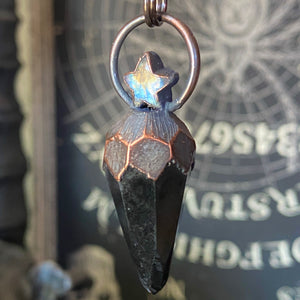 Starry Night Pendulum Pendant

This copper electroformed shungite pendant also doubles as a pendulum. It is adorned with a flashy rainbow moonstone star.

Shungite is known to relieve stress, boost energy, and detoxify and purify one's body by eliminating negativity energy, which is perfect for energy work. Shungite paired with rainbow moonstone is a beautiful balance, because it deflects negativity and strengthens intuition and psychic perception. The copper it's made with is a highly conductive element that amplifies the energy of crystals, and it will aid you with your energy work. It's hung on a 22" copper chain.

As with all hand carved crystals and handmade items, it may have minor imperfections that only add to its charm and character.