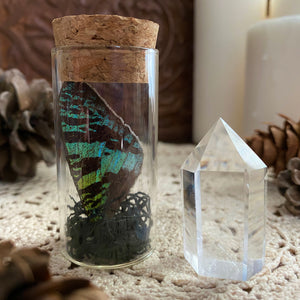 Sunset Moth Wing with Quartz Point

You will receive one Sunset Moth Wing preserved in a glass fairy bottle* and one beautifully polished Clear Quartz Point for amplified energy. Keep these magickal wings on display in your home for positive energy, carry them for good luck, or gift them to a friend.

These wings are all ethically sourced from a conservatory. All insects died of natural causes, and their beauty has been preserved in these glass fairy bottles. Keep out of direct sunlight for prolonged periods of time.

Pictured: front and back of Sunset Moth Wing.
*Fairy bottle measures approximately 2.3" tall (without cork).