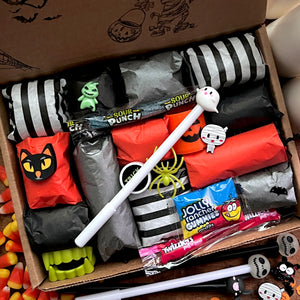 Trick or Treat Bundle
The name is misleading, because it's really ALL TREATS and NO TRICKS! Each Trick or Treat Bundle contains 12 crystals and minerals worth much, much more than their package price. It's so jam packed with goodies, it'll make your heart explode with joy! To kick off the Halloween season, extra treats will also be included!
Extra Halloween goodies may be (but not limited to) items such as candy, enamel pins, Halloween stamps, stickers, erasers, rings, glow-in-the dark bracelets, pens, or tarot cards.